Kustom Bitz Pty Ltd
Factory Unit 1
22 Jesmond Road
Croydon VIC 3136
Melbourne Australia
Website sales are our prefered method of sale, however direct pick ups and counter sales is ok as I am there most days working on customers projects, however I can be in and out quite a bit on some days. Late week day pick ups after 5pm are ok if you let me know you are coming over. I work alot of weekends but not on any regular time table, it depends on what I have on and how burnt out I am.
Please phone first so that you are not dissapointed if you arrive and I am not there.
[in and out all day – best to call or text first]

Currently we do not export from Australia - too many bad experiences

Email: sick to death of junk emails, so only real persons will get email address.
However we have noticed some of our return emails are undelivered or rejected by mail servers due to spam filters or mis-configured accounts on mail delivery systems at your end. Please note we do not send any spam or marketing emails, so if you want to recieve mail from Kustom Bitz check we are not blocked on your system, otherwise you will not recieve our emails for reciept of your order and order updates.
Phone: 0407 818 511
After 9.30am to 5pm weekdays [within reasonable trading hours]
Please note sometimes I do not hear the phone when on the lathe, running a weld bead, grinding or polishing and I dont answer the phone while driving, so please send a text as the Telstra voice to text conversion is mostly useless.

The phone constantly rings these days and I just can't get back to every one, so I do appologise but at different times I have committed to that much work that I have to ignore the phone to get through the work already in the workshop in a timely manner. So a short, direct, but detailed text message might be the go, so I can say yes or no, then allocate some time to call you back if I think I can help you. Or a quick text message to check current stock on an item works too.

Private numbers generally don't get answered because in my experience mostly thats been the scammers and time waisting telemarketers, so if you are calling from a home number that is private and don't get through, try calling form your mobile phone or text a message..

And TELEMARKETERS take note ; if you do not want to be abused and don't like me swearing at you then DO NOT call, it really is that simple.


Fax: N/A
International Phone: +61 407 818 511
International Fax: N/A
ABN 40 600 125 246
ACN 600 125 246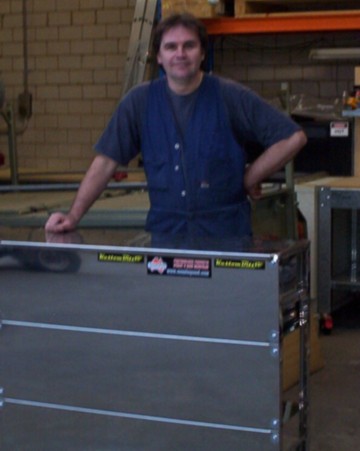 Factory Door Sales
Trade Sales & Direct to Public
Always phone first ~ Kustom Bitz is primarily a manufacturing & mail order business so more than likely we will be out chasing up parts, [
which is really just
an excuse to go cruzin'
] but usually we are not too far away. By calling first we can make sure someone is there to help you when you arrive.
MOBILE PHONE CODES


Address Details as Text - scan code image above




To store our Phone number in your mobile phone - Scan Code Image above